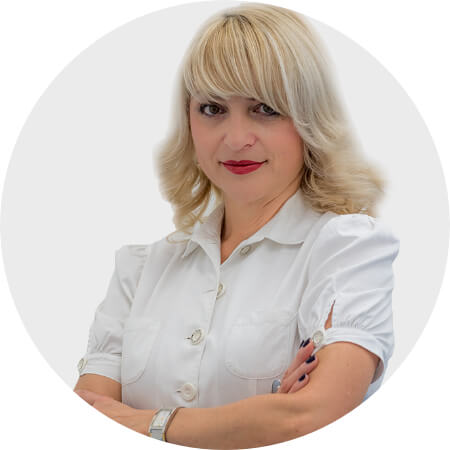 prim. prof. dr. sc. Željka Roje dr. med.
Otorhinolaryngology
5.0 (12)
(1 comments)
Your trust is our main concern. Service providers cannot influence a user's comment not to be published or removed. We also do not post comments that contain users' private health information.
Select a service and contact your chosen doctor – expert
No worries - by pressing the button you still do not pay anything!
Employment: Private specialist practice Prof. Željka Roje, PhD. Expert training: Mayo Clinic, Rochester, Minnesota, USA: Visiting resident (ENT dept) from 5 February 2000 to 7 March 2000, Amsterdam, the Netherlands (2001)
Hands-on-Course: Implantation of tracheoesophageal prosthesis after total laryngectomy, Berlin, Germany (2005)
Hands-on-Course: Laser in otorhinolaryngology, Voss, Norway (2006):
Hands-on-Course: Coblation in otorhinolaryngology Academic degrees and promotions: completed the Otorhinolaryngology and Maxillofacial Surgery postgraduate studies at the University of Zagreb School of Medicine.
Completed a postgraduate doctoral programme at the University of Split School of Medicine in the Clinical Medicine study programme.
Doctoral thesis "POSLIJEOPERACIJSKI MORBIDITETI PATOHISTOLOŠKE OSOBITOSTI TKIVA NAKON KOBLACIJSKE TONZILEKTOMIJEU DJECE" (Postoperative morbidity of pathohistological peculiarities of the tissue after a coblation tonsillectomy in children) at the University of Split School of Medicine on 5 March 2008.
Completed the course "Edukacijske vještine" (Educational Skills), Split 2008. She was appointed a chief physician in 2017.

View detailed CV
User comments (1)
All comments are submitted by the user after consultation with an expert.
Download the LittleDot app
Find a doctor – expert who you wish to contact for advice
There is always somebody online and ready to help
Access to doctors you can trust 24/7, no matter where you are